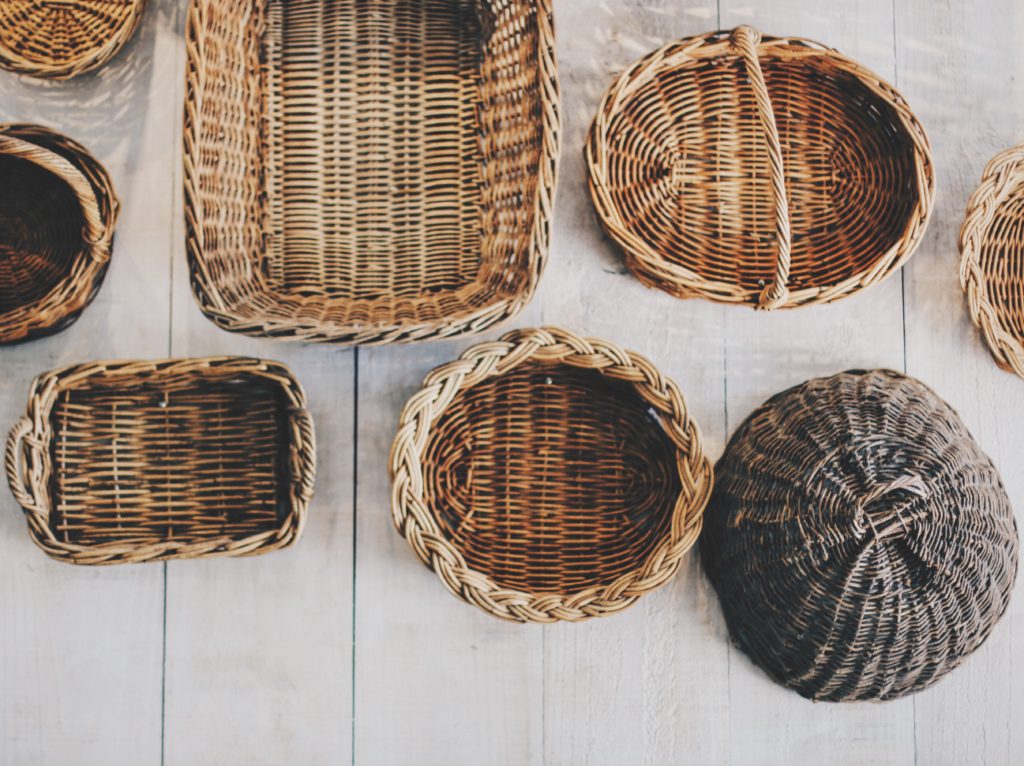 Too many of us are used to the feeling of constantly living with insufficient storage space. Despite the gurus' claim that the answer is to declutter endlessly, plenty of us simply don't want to get rid of most of our possessions! We wear and like all our clothes; we use our devices regularly and have fun with them; we enjoy our hobbies and need our equipment for them. So, what can we do when we simply do not have enough cupboards to store our possessions?

One cheap, handy and very attractive solution is to use baskets for storage. They are immensely flexible as a storage method – they come in every possible size, from quirky little ones designed to fit in the palm of your hand to human-sized hampers, and a wide variety of materials.
Bathroom
In the kitchen and bathroom, unless you have a very rustic aesthetic, your best choices for storage baskets often come in metal – it's durable, hygienic and easy to clean. Organizer basket-trees  in chrome and steel are the ideal way to organize your under-sink cupboards, with larger baskets at the base to hold your bottles of cleaning products, and smaller ones higher up to hold cleaning cloths, steel wool and wipes. You'll never be faced with having to empty the entire cupboard to find the washing up liquid again, and the metal won't be damaged by accidental spillages.
Kitchen
Similarly, metal basket spice racks are incredibly versatile – use to organize inside your kitchen cupboards if you are sick of finding out-of-date bottles of spices lurking at the back, or they are easy to attach to walls, hang off shelves or sit on kitchen counters. You can even add hooks at the bottom to hang your cups and kitchen utensils from – many modern kitchens are very cosy, so it can be vital to make every inch of space work for you! In the bathroom, these can be ideal to hang inside the shower for easy access to soaps, shower gels and shampoo – they won't be damaged by damp conditions and do not provide a welcoming surface for germs or mold.
Other Rooms
When it comes to the other rooms in your home – living rooms, dining rooms and bedrooms – these are less utilitarian spaces where you can feel free to use more traditional wicker and willow baskets. You can also use a variety of plastic ones which still look the part while being a bit easier to clean – particularly useful for children's rooms!
Sets of small baskets in the same colours and materials are ideal for organizing items on shelving units or tucking under low tables. A very attractive way to always know where your TV remotes are, and an easy way to get children's and pets' toys out from underfoot without making them inaccessible to their owners.
If you are a fan of the vintage look, you can pick assorted baskets up for a few dollars on eBay or in thrift stores and customize with chalk paint and print fabric liners – a very cheap and easy way to bring your individual sense of style to your home, and a beautiful method of displaying fragile treasures such as vintage tea sets.