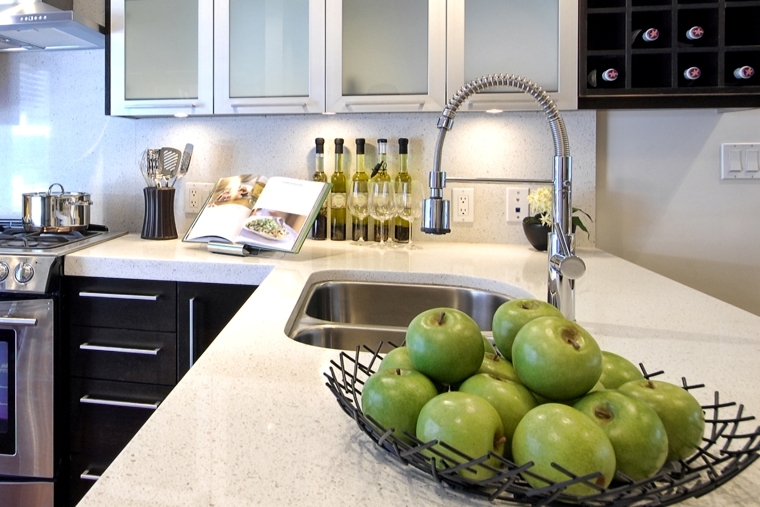 The art of home staging has become a business unto its own with many homeowners, hiring staging specialist to get their homes picture perfect for a quick sale. With this said, the bathrooms and the kitchens are the two rooms that could be deal breaker for potential home buyers so it is important to ensure they are always looking their best. However, not everyone wants to, or can afford the cost of home staging and would prefer to DIY solution especially when living in the home while waiting for a sale. There are many things you can do to make your home sell ready without spending a fortune.
Kitchen
Thoroughly clean, removing all clutter including personal items like family photos and other knick-knacks. This gives the potential buyer an opportunity envision their own things in the space – also less stuff makes the kitchen look larger

Ensure stove exhaust fans get a good wipe down

Make sure any visible linens (tea towels,  oven mitts,) are brand new or clean like new.

Ensure the kitchen counter-top are void of mess

Ensure the stove top is clean using a cleaner that will leave a shine

Ensure kitchen to  clean and shine surfaces and that they are dry

If you do not have a backsplash, consider a low effort weekend backsplash project

Clean floors
Bathrooms
Re-grout for a fresh bathroom look

Ensure vents are void of such things as dust balls and spider webs

Repair dripping facets and shower heads

Repaint dingy walls or kitchen cabinets with a neutral colour

Ensure kitchen to  clean and shine surfaces and that they are dry

Clean floors
Good Luck!
If you'd like to receive more cleaning tips and tricks subscribe to our newsletter.  If you just plain want our Maidstr team to come on over and clean for you, we would be happy to do so. Just email us at support@maidstr.com or chat with one of our live agents below.